For a hassle-free Microsoft 365 Migration with no downtime or data-loss, speak to our team of friendly IT Technicians at CRT Network Solutions.

Migrate with ease using our
Migrating from one platform to another can be a complicated and painful task which is why we offer our clients our Microsoft 365 Migration service. Our expert team of Technicians are available to assist your business with your Microsoft 365 Migration.
Our Microsoft 365 Migration service helps limit downtime and prevent data-loss through out systematic approach. Regardless of the size of your system, our IT Technicians will ensure your Microsoft 365 Migration is a streamlined and hassle-free process.
We have been assisting small to medium-sized Businesses and Medical Practices across Brisbane and the Sunshine Coast with their data migrations since 2006. We are certified Microsoft Partners and are highly trained and capable of assisting you with all your Microsoft 365 needs.
Sunshine Coast
3/2 Akeringa Pl, Mooloolaba QLD 4557
Brisbane
33 Hayward St, Stafford QLD 4053
When you purchase Microsoft 365 from us, we will look at your requirements and determine the best migration plan. There are many factors taken into consideration before deciding on the correct Microsoft 365 Migration method for you. We take into account all aspects which may impact on your end-user productivity. 
CRT Network Solutions can tailor our migration services to whatever best fits the needs of your business, providing different migration methods including Cutover Migration, Staged Migration, Hybrid Migration and IMAP Migration. Our experts will advise you for the right Microsoft 365 Migration path and put a flexible date to the plan and execute it. This flexibility allows your end users to be productive, while we carry out Microsoft 365 migration in the backend with zero data loss and no downtime.
Planning for Your Business'
Proper planning is crucial when migrating to Microsoft 365. By taking the time to assess your current systems and user data, and to plan for the Microsoft 365 migration itself, will undoubtedly prevent mistakes and data loss.
Regardless of whether or not your Microsoft 365 migration will be complicated, it is highly advisable to partner with an experienced, trained IT service company that understands the great technicalities involved with moving over such important data. Outsourcing your Microsoft 365 Migration will also ensure that you and your business can continue to operate and function with as little interruption or disturbance as possible. If your business needs help with Microsoft 365 migration, get in touch with CRT today!

Don't Wait For Disaster To Strike
Turn To Experts For Your Microsoft 365 Migration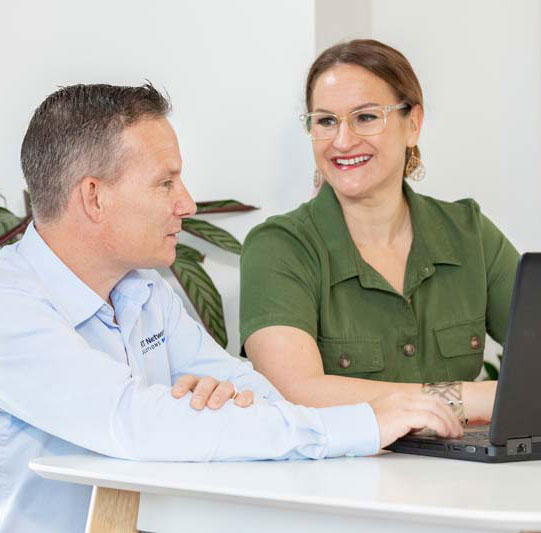 Partner with the Experts for
Microsoft 365 Migration Services
Migrations can be messy but with the right partner and advice, this mess can be avoided. We have a team that has migrated many organizations with zero downtime and data loss.
Being a Microsoft Partner, we have access to information, plus years of experience that allows us to stay ahead of the curve. Our partnership with Microsoft has been meaningful and has added lot of value for many of our Microsoft 365 customers. Leverage our vast experience in Microsoft 365 to get the right solution for your business.
Well-defined processes
Our well-defined processes from planning to configuration, post-migration support and training, help us to provide you the best possible Microsoft 365 Migration service.
No downtime during migration
Your emails won't be affected when your Microsoft 365 migration is in progress. There will be zero data loss and no downtime.
Extensive migration experience
We have implemented many successful migrations from different platforms and systems to Microsoft 365.
Microsoft Partner
We are a Microsoft certified Partner. All our Technicians are highly skilled and trained in all Microsoft products including Microsoft 365.
CRT Network Solutions are proud to be partnered with industry leaders such as Microsoft. All our staff undergo ongoing training and are highly skilled in Microsoft products. We are experts in Microsoft server support, network support, and supporting workstations. We are familiar with a wide range of softwares to do with various industries such as Accounting, Legal Firms, Medical IT and general business.
We provide fast and friendly IT services and support across Australia. We have several years of IT experience and aim to help you move your business forward. We offer a range of IT support services, which are guaranteed to help resolve any IT issues your business may be experiencing. Get peace of mind by letting us manage your entire IT infrastructure. We take responsibility and are highly accountable for your IT network and IT support services.
We manage servers, desktops, software, networks and IT security for small to medium-sized businesses.
With our equipped specialists and excellent staff, it is possible for us to offer clients the best support. From the word 'go' our team is focused, committed and trustworthy. They value the client's business. Therefore, they will do whatever it takes to provide them with the best service. With us, you are guaranteed secure and reliable IT.
Partner with CRT Network Solutions
If you need IT services, you've come to the right place! As a business IT services provider, we understand your business' IT needs. We have experience providing support for various different types of computers, including laptops, desktops, MACs, and more. We offer onsite and remote IT services to ensure we can get your equipment working again as soon as possible. We are a reputable IT support company offering friendly, competitive IT support and IT services. We are familiar with a wide range of softwares, including those for accounting and legal firms, medical IT and general business. We are also experts in Microsoft server support, network support and supporting workstations. 
We have several years of experience in providing managed IT services and support and aim to help you move your business forward. We know how crucial your IT infrastructure and equipment is to the day-to-day runnings of your business. That's why we offer fast, affordable and convenient IT services to businesses. We are prompt and respond quickly to incoming queries, and we always aim to get you back up and running in no time. We even come to you! 
IT Support Sunshine Coast
Onsite and Remote Support
Server and Network Installation
Hardware Supply and Installation
Service Level Agreements
.
Don't Take Our Word For It…
Here's what our wonderful customers from across the Sunshine Coast had to say about their experiences with CRT Network Solutions.